Healthful Asian-Inspired Farm-Fresh Cuisine in Roxbury.
When Chef Toko Harada worked at the Brooklyn-based restaurant Eat, she was impressed by the quality of organic vegetables delivered there by Madalyn Warren of East Branch Farms in Roxbury, NY.
"I liked creating a dish from whatever she had, improvising, focusing on the ingredients," says Harada. "I was dreaming of having my own place where I could cook, using Madalyn's vegetables, when she called me about starting here."
Harada realized her culinary dream by teaming up with Madalyn's brother, Arthur Warren, to open Kimchee Harvest Kitchen in Roxbury's Queens Mountain Inn.  
In a rustic interior that befits an upstate inn, the Harvest Kitchen's menu offers distinctively Asian-inspired cuisine, influenced by Harada's Japanese and Warren's Korean culinary history. Employing the Japanese concept of "sansai" or "seasonality," the menu uses the freshest produce for maximum flavor, and serves kimchi made by the Warren family—a homegrown version of the Korean culinary staple, made by fermenting various vegetables in ginger, garlic, scallions, and chili pepper.
"Certainly when Toko is on her own there's going to be a very strong background from where she started in life," says Warren, the restaurant's front man. " I introduce Korean ideas, European ideas, and it all works together. Having that flexibility is nice."
Although Harada prepared food in Tokyo, she has no desire to recreate the traditional dishes found at Japanese or even Korean restaurants. Her style of cooking is less about following recipes than it is about how produce inspires her.
"I want to show people how fresh vegetables can taste," Harada says. "When I recognize how delicious they are by themselves, I just want to do little things to them to make the most of their taste—simple things. Yesterday we made roasted zucchini and garlic scape pesto; I just tossed the zucchini into the pesto."
"Food that's not fresh needs spices and sauces to make it tasty," Warren says. Newly harvested organic vegetables, on the other hand, only require subtle enhancement.
Since the restaurant's opening in July, their signature rice bowl has emerged as a customer favorite. "What you're going to have every time is a scoop of our rice blend and a side salad," says Warren. "The other components will change, sometimes twice in a day. If we run out of something then we make something else. We like to have a sauteed green, some sort of roasted vegetable, salad, kimchi; whatever is available, and some kind of protein."
To achieve its satisfying complexity the rice bowl juxtaposes distinctive but complementary flavors and textures. For example, the crunch of radish kimchi is paired with the sweet softness of dried persimmon, plus tofu, cucumber, and soybeans, as well as tender shrimp in tahini sauce, zucchini in garlic scape pesto, and sauteed turnip greens with pumpkin seed, for sampling between mouthfuls of freshly picked salad.
Additional sides, include some of the best japchae (sweet potato starch noodles) north of K-Town, and Japanese-style seaweed and soybeans, sauteed in sesame oil and tamari; plus cucumber kimchi, to create a finish that dances on multiple tastebuds, long after your chopsticks are set aside.
The restaurant opens at 7am, serving breakfast dishes that Warren describes as light and healthy, not carb heavy. "You get a toasted rice patty, which is our blend of black, brown, and white rice, a little bit of cheese and scallion in it. We put it in a panini press to crisp it, plus two eggs any style and a side salad. And you can add sausage."
Also usually on the menu is a Japanese-style beef curry, which is not too spicy and has a bit of sweetness to it, plus kimchi rice, a favorite quick-fix Korean dish; as well as a cooling summer cucumber soup and vegetable frittatas.
Sample these dishes on the inn's front porch, while enjoying the vintage charms of Roxbury's Main Street, or out on the sun-dappled back deck, rimmed with banks of black-eyed susans.
The restaurant is open from 7am to 2pm Friday through Sunday. After that it's take-out only, usually consisting of whatever was cooked for breakfast through lunch.
Next week's menu is whatever the harvest inspires.
"Toko's style of cooking works very well with farm food," says Warren. "It's mostly Japanese or Asian food but there are no set rules. We have no idea what we're cooking next week. When the food is harvested, we figure it out."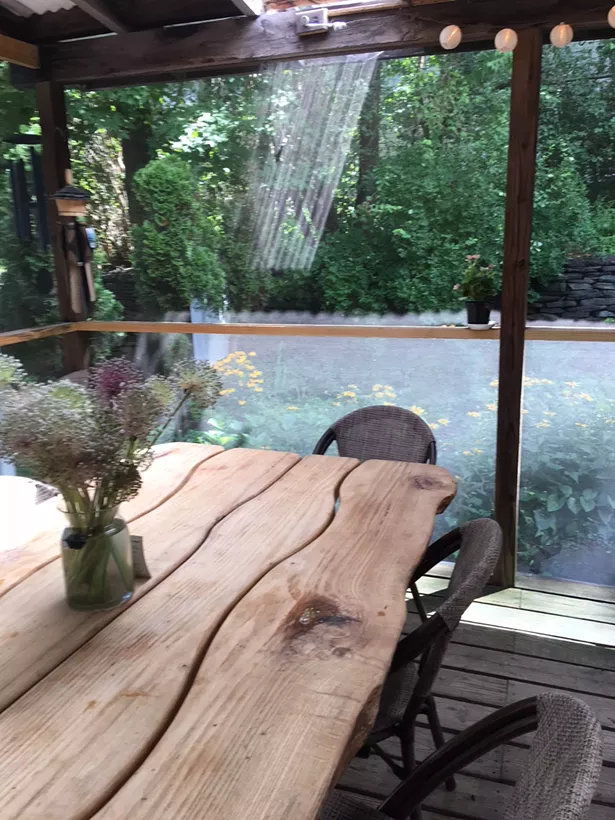 This article was originally published in
Chronogram
.